J.P.Morgan Corporate Challenge
Posted on Tue March 22, 2022.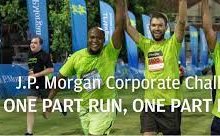 Forge connections and cultivate a healthy workplace culture, in person, at the J.P. Morgan Corporate Challenge. Gather your colleagues to enjoy a healthy dose of friendly competition during a 5.6-kilometer race while spending quality time together outside of work.
Come and Stay over at Premiere Classe Hotel Apartments spend the evening at the prestigious Melrose Arch restaurants and bars, or Sandton City.
The J.P. Morgan Corporate Challenge Road Race Series (the "Series") is open to all companies in all industries that have an interest in forging meaningful connections and cultivating healthy workplace cultures over the shared experience of fitness, friendly competition, and advance workplace camaraderie.
Race day 31 March 2022 - bookings are now open for your stay over.